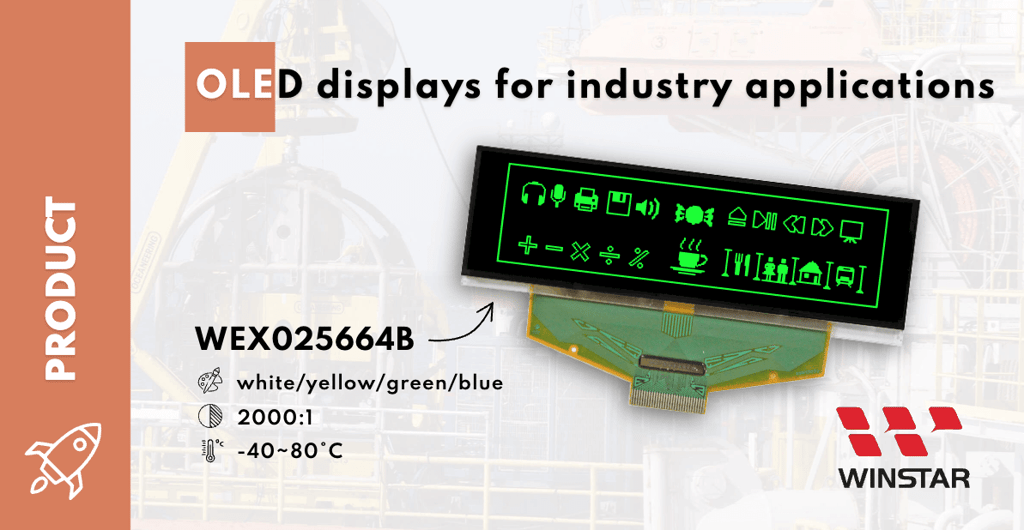 In this article, we remind WEX025664B series by Winstar – a 3.12-inch graphic OLED displays, which you can use in, e.g., industry.
The WEX025664B series consists of four 3.12-inch OLED displays of 256×64 px resolution, which differ in the diodes' color, so in the color of the presented content. It can be white (WEX025664BWPP3N00000), yellow (WEX025664BLPP3N00000), green (WEX025664BGPP3N00000), or blue (WEX025664BSPP3N00000).
OLED displays are particularly well thought of due to the excellent readability of presented content obtained by, e.g., extended contrast ratio, which for WEX025664B series has been estimated as 2000:1; simultaneously, it is not dependent on other factors such as, e.g., the intensity of ambient light. OLED displays consist of diodes, a source of light on their own, so there is no need to use backlight, yielding reduced dimensions and weight of modules. That is why they are commonly used in wearables, e.g., smartwatches (whereby the describes models probably will not be a perfect choice for this kind of gadgets; in wearables, you can use, e.g., 0.66-inch WEO006448A, 0.96-inch WEO012864D, or 1.28-inch WEO012864L, worth noticing are also 1.18-inch circular WEO128128B). The undeniable asset of all OLED displays is the wide temperature range. The WEX025664B series can operate in low (-40°C) and high (80°C) temperatures so that they can be profitably applied in both indoor and outdoor applications.
In the table, you can find the crucial parameters of the described series:
| | |
| --- | --- |
| parameter | WEX025664B |
| size | 3.12" |
| resolution | 256×64 |
| module type | graphic |
| mounting type | COF |
| contrast ratio | 2000:1 |
| interface | 6800, 8080, SPI |
| controller | SSD1322 |
| power supply | 3V |
| active area | 76.778(H)x19.178(V) mm |
| outline dimensions | 88.0(H)x27.8(V)x2.01(D) mm |
| operating temperature | -40~80°C |
The WEX025664B series can be used in the devices intended to operate in tough environments, e.g., in the industry. You can apply them in, e.g., portable measuring equipment able to operate not only in unsettled weather conditions but also in dusty or humid spaces.
These kinds of OLED displays are often mounted in the kiosks used to settle the payments as additional screens to present the transaction details. You can notice them in, e.g., vending machines, ticket machines or parking meters, and self-checkouts.
The WEX025664B series can be used in consumer electronics. You can apply them in various home appliances (e.g., audio/video players, microwaves, coffee makers) and computer accessories (e.g., printers or scanners).
In our shop, you can buy off-the-shelf WEX025664BWPP3N00000, so the white ones. If you want to get to know the lead time for other WEX025664B series products, please  contact us. 
2021-01-14
We are thrilled to invite you to the heart of Poland's business realm, Warsaw, on Thursday, October 26, 2023, from 09:00 to 16:00, for the Evertiq Expo 2023 at the … Join Us at Evertiq Expo Warsaw 2023! Read More »