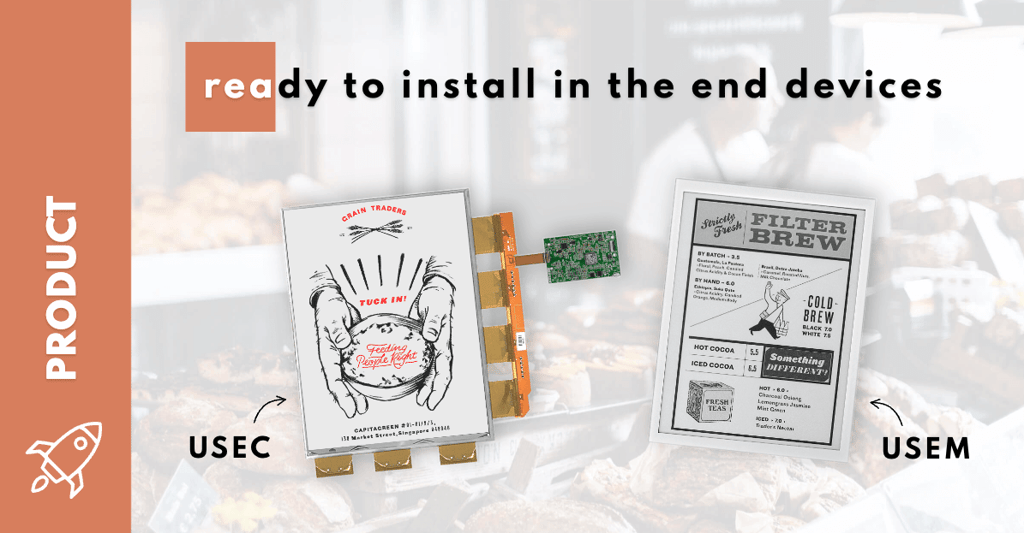 Over the years, one can notice the increasing demand for EPD (Electronic Paper Display). Interestingly, e-paper displays are often applying in public spaces, e.g., in digital signage systems. Soon, on Unisystem's offer, there will be two solutions based on E Ink's EPDs: USECs and USEMs. We believe that the e-paper technology can become more and more popular as the USECs and USEMs can be used by the companies that do not have appropriate extended own resources, both human and equipment.
USEC – EPDs with the controller
USEC is a series of 7.8-, 9.7-, 11.3-, 13.3-, and 31.2-inch modules integrated with Unisystem's controllers, which make the process of parts and whole content refreshing run smoothly. Moreover, they reduce the relicts of previously presented images, so called ghosting, caused by the imperfect movements of particles with pigments while the content is changing rapidly. The Unisystem's controllers operate in a few modes, e.g., Animation, that is a flashless mode to display simple black and white animations. The response time of the matrix in this mode is about 120 ms at 25°C. (Click here to watch a video with an adventure of Simon's Cat played on one of the E Ink's EPDs – yes, we did it.)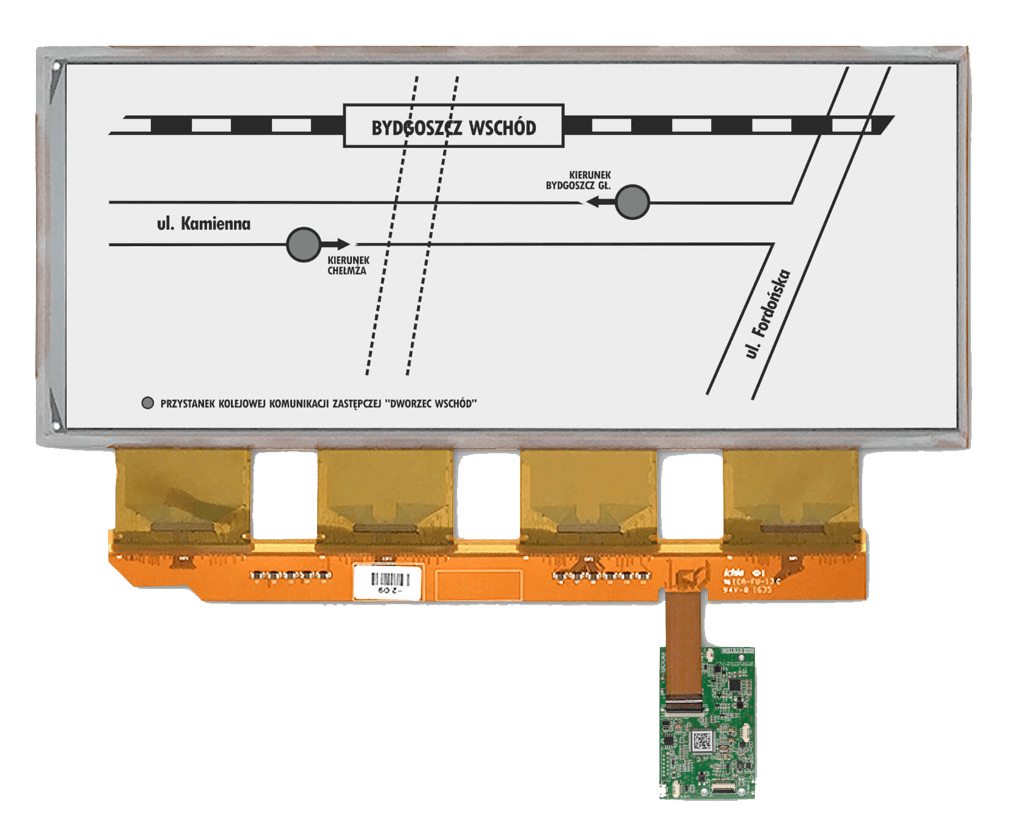 USEM – EPDs in the open frame
USEM is a series of 13.3- and 31.2-inch modules integrated with Unisystem's controller and Unisystem's open frame type enclosure that prevents damages during the installation of EPDs in the end devices. Moreover, the USEMs' display's surfaces are protected by a UV filter layer set between two 2-mm sheets of glass. This construction prevents not only fades of the matrix but also damages to the module. Furthermore, USEMs can be combined with touch panels – it is an additional service that can be outsourced to Unisystem (contact us to get a quotation). It is also worth noticing that all components of USEMs are integrated with optical bonding.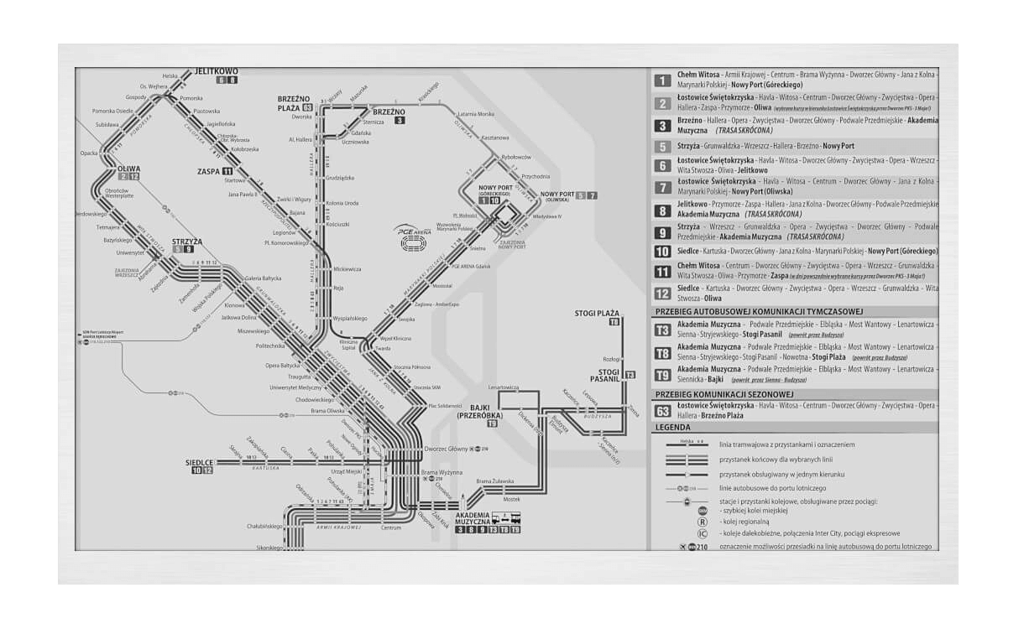 The implementation of EPDs
In our industry, we also can notice the influence of the pro-ecological attitude popularized in society. In recent years, the clients increasingly choose the solutions that are not so harmful to the environment, e.g., e-paper displays perceived as energy-efficient, so eco-friendly (and in fact, it is true – EPDs consume a bit of power in a moment of content changes; the backlight is not required).
Currently, e-paper displays are more and more applied in public spaces, e.g., digital signage systems. Interestingly, we can find examples of the implementation of EPDs in Poland, e.g., in passenger information systems. The e-paper displays are also applied in retail – in this case, they are usually used as price tags, but they might also be used as advertising media. The EPDs may also be installed in various kiosks and totems, e.g., vending machines, self-service checkouts, parking meters and ticket machines, information points.
It is worth noticing that companies, which do not have appropriate extended own resources may benefit from USECs and USEMs – all in all, they are kind of off-the-shelf solutions, ready to install in the end devices.
Contact us to check the availability of Unisystem's USECs and USEMs.
2020-11-24
We are thrilled to invite you to the heart of Poland's business realm, Warsaw, on Thursday, October 26, 2023, from 09:00 to 16:00, for the Evertiq Expo 2023 at the … Join Us at Evertiq Expo Warsaw 2023! Read More »