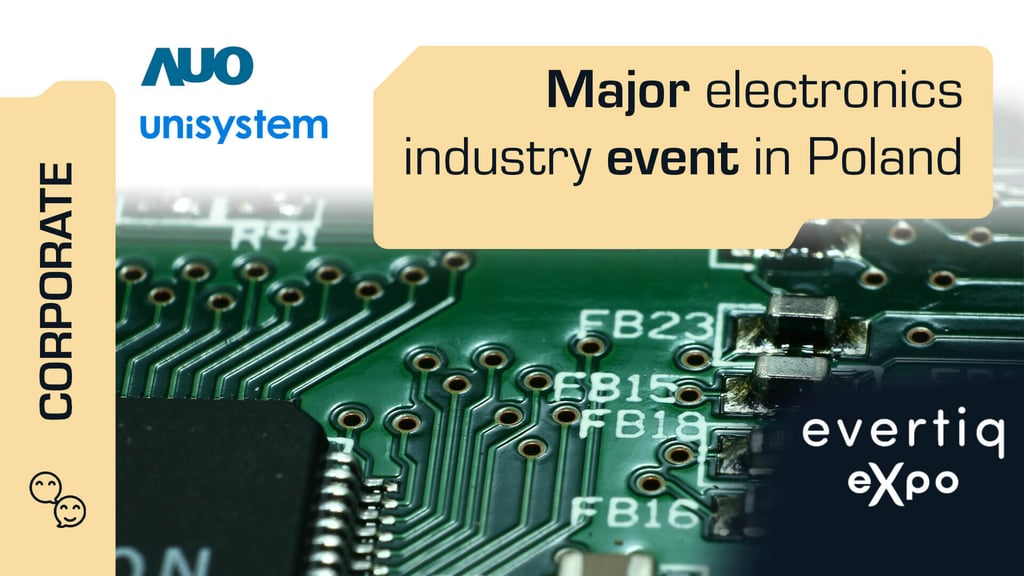 On 27th October 2022 (Thursday) Evertiq Expo 2022 will take place on PGE Narodowy. It is said to be the biggest electronics industry event in Poland. Meet us at booth 180.
This year we co-exhibit with AUO – our leading supplier and one of the world's biggest manufacturers of LCD-TFTs. At our stand you may test one of the newest AUO products – the 23.8-inch display with a touch panel designed with industrial applications in mind. This module is put in the solid metal bezel-less cover, which provides IP65 tightness.
Except the usually presented displays at Evertiq Expo, like the e-paper displays by E Ink, we will also show a module designed by the Riverdi team. It is a 10.1-inch display with a touch panel and the STM32 microcontroller onboard. The STM32 makes GUI design easy and intuitive, because of dedicated software – TouchGFX. Now the GUI designer does not need to be a programmer – just use the predefined graphic elements in a drag-and-drop manner.
Feel invited to check out the agenda of the conference, which takes place at the expo. Among this year's speakers are Ewa Maciejczuk (Account Manager, AUO) and Jacek Marcinkowski (Project Manager, Unisystem), who will together deliver a speech: A revolution in the digital world of rectangles – new shapes and new possibilities with TARTAN technology by AUO. The talk will focus on the technology of non-standard display applications in transportation.
The admission is free, but you need to register: https://evertiq.com/expo/WAW2022_visit.
2022-10-25
We are thrilled to invite you to the heart of Poland's business realm, Warsaw, on Thursday, October 26, 2023, from 09:00 to 16:00, for the Evertiq Expo 2023 at the … Join Us at Evertiq Expo Warsaw 2023! Read More »