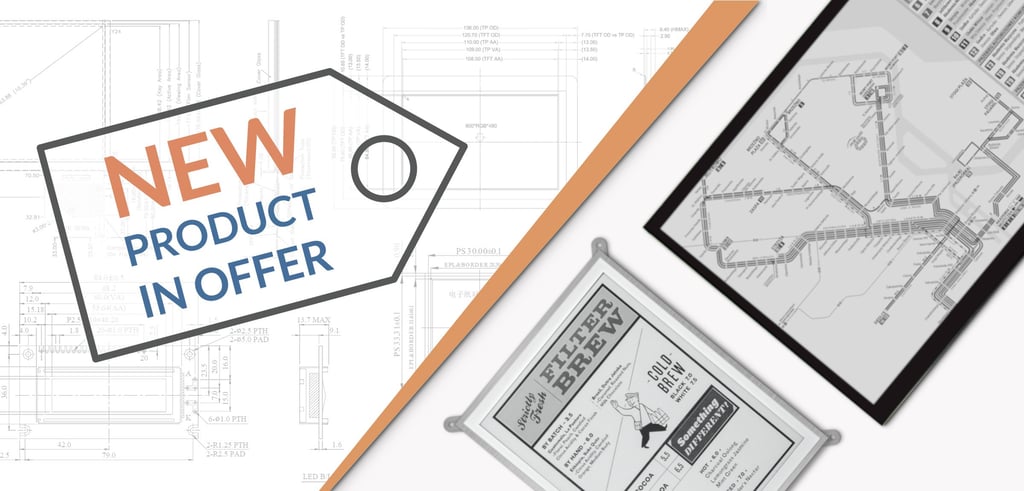 Why is it difficult to assemble an EPD by yourself?
First of all, due to the dimensions of e-paper displays. The thickness of the 13-inch ED133UT2 display is only 0.78mm, and for the 31-inch ED312TT2 display the thickness is 0.805mm. Considering the fact, that there is a glass basis in the mentioned panels there is a high risk of damage during incorrect assembly. In addition, the previously mentioned displays do not have built-in controllers, which appear as an extra component and are available in several different variants.
What are the advantages of using EPD Open Frame modules?
First of all – safety.
For mechanical reasons bare e-paper displays with large dimensions are extremely delicate and prone to damage. Therefore, a properly designed housing is a crucial element ensuring the safety of the EPD display.
An unquestionable advantage of this solution is elegant front glass with delicate painting and a laminate in the form of UV filter, that protects the e-paper material from demotion and discoloration. Due to its thickness of ~4,5 mm, the module is also an excellent protection of the display against mechanical damage.
To ensure the optimization of the production process, Unisystem developed the machine for positioning and safe connection of e-paper displays in a dedicated housing. This allows you to increase security, accelerate assembly and reduce losses to zero.
Secondly – the convenience of assembly.
Properly designed, in consultation with E Ink company, modules come in several variants: tablet, with a mounting frame, each in outdoor or indoor use version. This solution allows for greater flexibility and ease in adapting the e-paper to your application.
And last but not least – dedicated controllers.
There are controllers for communication via SPI, USB, Wi-Fi, and GSM. In case of the first two protocols – USB and SPI – the appropriate connectors are derived from the device housing, and in the case of modules in the outdoor version, also suitable cables with a waterproof DSUB connector are included.
Controllers with Wi-Fi or GSM modules require the creation of a local host that will communicate with them and send the appropriate data and commands. From the mechanical side, a PCB aerial is added to ensure proper characteristic. For system designers, there is also a CMS web application for content management.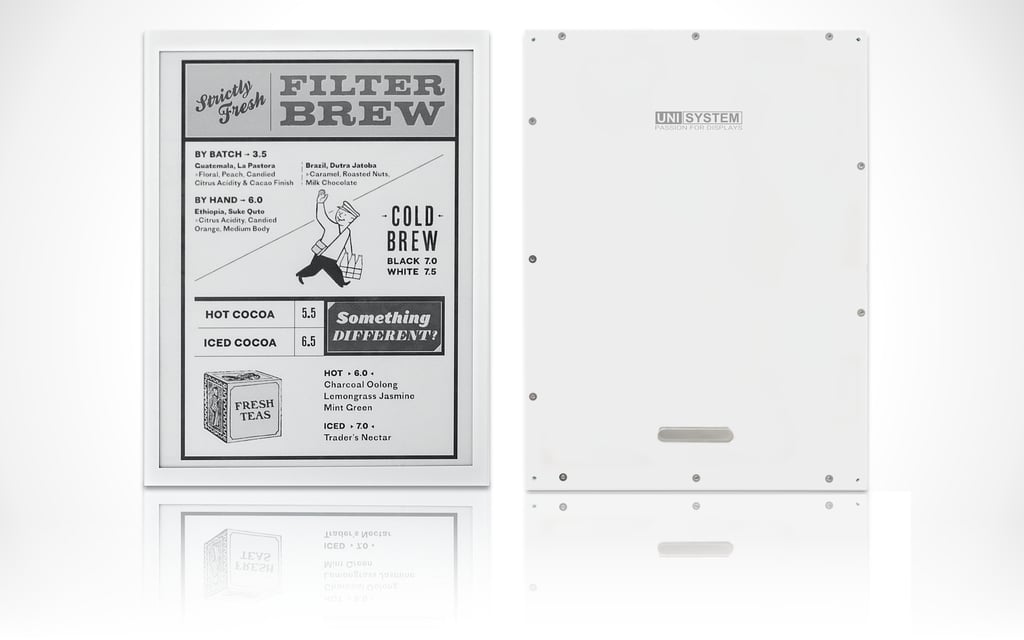 The technology of e-paper differs from LCD-TFT so much that in terms of activities necessary to obtain a usable component, the e-paper display can be compared to the matrix itself rather than acomplete LCD-TFT display. In both cases, a number of factors should be taken care of to obtain a full, working module.
The answer to this type of demand is Unisystem EPD Module. It is a ready component that can be easily, safely and conveniently implemented to the final application. The system integrator does not have to deal with the protection and control of the e-paper display, because the module provides:
Appropriate mechanical protection of e-paper
Laminated front glass with a UV filter
Integrated controllers with software
Several variants to choose from depending on requirements:

indoor / outdoor
mounting frame / tablet
wired / wireless control

Easy assembly
Elegant design
Unisystem EPD Module is a practical solution to all problems that may impede the integration of EPD panels in end applications.
In this very moment we have 3 families in the offer:
2018-12-04
We are thrilled to invite you to the heart of Poland's business realm, Warsaw, on Thursday, October 26, 2023, from 09:00 to 16:00, for the Evertiq Expo 2023 at the … Join Us at Evertiq Expo Warsaw 2023! Read More »