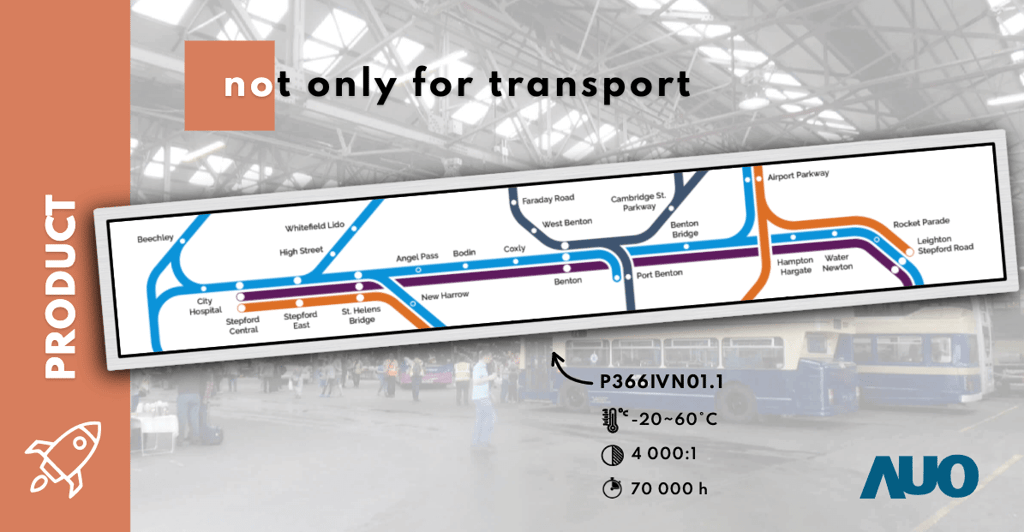 The P366IVN01.0 model, after almost two years of presence in Unisystem's catalog, is replaced by its newer version: P366IVN01.1. Like its predecessor, the latest product from AUO is distinguished by a combination of a wide format with excellent parameters and versatility. High contrast, long LED life, and resistance to extreme temperatures will prove helpful both in transport and as an advertising medium in other applications.
The P366IVN01.1 is characterized by lower power consumption compared to its older version, but it still retains all the features of this particular display. It is a solution intended primarily for indoor applications, ensuring full readability of the displayed content even in intense lighting. This is possible thanks to the brightness of 700 cd/m2 and high contrast (4000: 1).
This product represents the TARTAN series developed by AUO, using the technology of the same name. The use of complex manufacturing processes (including the native photomask) allows for the production of displays of virtually any shape and size, including even the round ones.
The P366IVN01.1 also guarantees trouble-free LED operation for up to 70,000 hours. Therefore, it can run 24/7 for almost 8 years!
The crucial parameters of this product are presented in the table below:
| | |
| --- | --- |
| model | P366IVN01.1 |
| size | 36.6" |
| resolution | 1920×290 |
| active area | 919.3(H) x 138.9(V) mm |
| brightness | 700 cd/m2 |
| contrast ratio | 4000:1 |
| viewing angle | 89°/89°/89°/89° (IPS) |
| surface treatment | anti-glare, 3H |
| LED lifetime | 70 000 h |
| interface | LVDS |
| response time | 8 ms |
| power consumption | 25.6 W |
| outline dimensions | 951.3(H) x 170.8(V) x 18.3(D) mm |
| bezel width | 14/14/14/14 mm |
| weight | 2700 g |
| operating temperature | -20~60°C |
| display orientation | horizontal/vertical |
This particular LCD can also be implemented elsewhere than in just transport applications. The vehicles themselves and buildings such as stations and airports will benefit from using this solution to carry the necessary information. The areas in which this display will also work fine may include retail and digital signage systems. Properly applied P366IVN01.1 will be an unusual, eye-catching advertising medium.
Contact us to find out more about wide-format displays from AUO.
2022-01-27
We are thrilled to invite you to the heart of Poland's business realm, Warsaw, on Thursday, October 26, 2023, from 09:00 to 16:00, for the Evertiq Expo 2023 at the … Join Us at Evertiq Expo Warsaw 2023! Read More »