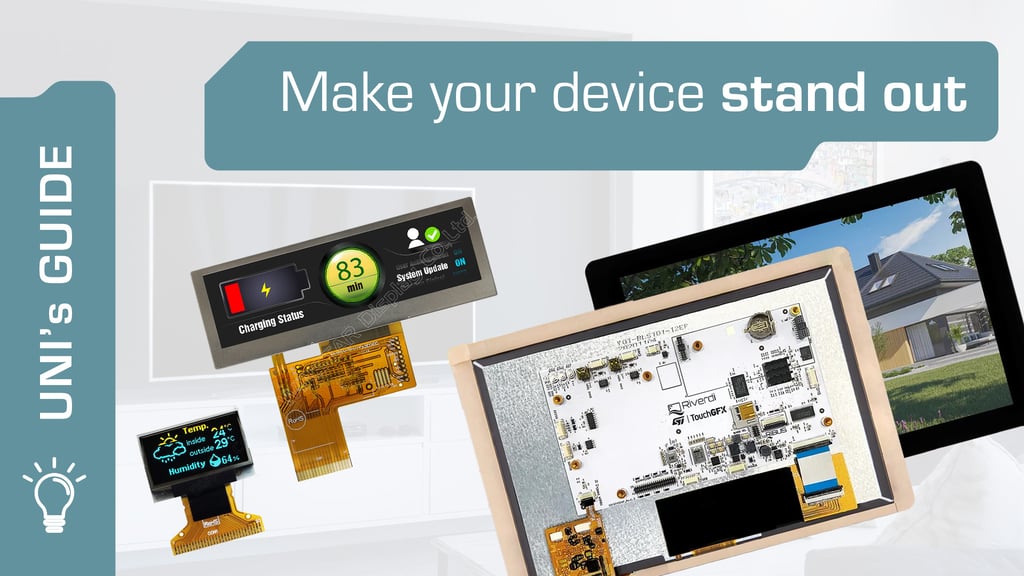 One could say that screens are all around us, blended into the public space. We can hardly imagine a comeback of traditional forms of travel without high-tech passenger information services. In those systems, displays play a key role. On displays, we read various data, like current travel progress. We appreciate the efficient and fast communication of information. Even if the announcement is not necessarily favorable to us, such as delayed trains or planes (at least you know what to expect!). Furthermore, smart systems are expanding into private environments, as in the case of more and more popular smart home solutions.
We connect increasingly more devices to the systems that invisibly wrap around our houses. We can remotely control the lights, adjust the temperature, schedule laundry, open or close the gate, water the lawn, and so on. The possibilities for digitalizing the household seem endless, especially given the imminent 5G revolution.
Convenient control with a panel
We can handle all these abovementioned actions with a smartphone. Still, sometimes it may be more convenient to use a control module, such as a PC panel permanently mounted on the wall.
From the user's point of view, the essential element of such device will be the display. The solution applied here should provide excellent readability of the content and long life of the components. There are various modules available on the market designed for smart home applications. Among them stands out a series of displays designed by the Riverdi team. Those solutions are equipped with an STM32 microcontroller, which is compatible with TouchGFX software. It allows preparing self-designed user interfaces (GUI – graphical user interface). Among them is a notable 10.1-inch model RVT101HVSNWC00-B with a resolution of 1280×800 px, brightness of 850 cd/m2, contrast ratio of 1000:1 and viewing angles of 85°/85°/85°/85°.
The RVT101HVSNWC00-B is endowed in a capacitive touch panel and a heavy-duty protective glass. It is not a standard consumer-grade solution. The features of components used in this display will be perfect for harsh conditions, such as water splashed on the surface of the module. In this model, the components are bonded by optical bonding, which improves the quality of the displayed content by eliminating the phenomenon of light refraction, reducing blurring caused by moisture and dust penetrating the inside of the module.

Consumer-grade electronics – definitely with a display
Today, almost all household appliances are equipped with screens. There are a variety of popular information visualization technologies used in consumer electronics. Some would seem niche, such as reflective LCDs, but we still come across them, for example, in weather stations.
Other interesting solution, which can be used in consumer electronics, is a widescreen, or the bar-type display. Those include LCD-TFTs, such as Winstar's 3.9-inch WF39ETWASDNN0#, with a resolution of 480×128 px, brightness of 500 cd/m2, contrast ratio of 800:1 and viewing angles of 80°/80°/80°/80°.
Monochrome OLED displays are also commonly used in consumer electronics. Unisystem offers various types of such modules – both in size (from 0.49″ to 5.5″) and shape (round, square, rectangular). One of those is a 0.96-inch WEO012864AB, also provided by Winstar, which can display content in two colors – yellow and blue.
*
Choosing the proper display for applications that fit into the smart home category is rather not complicated. Conditions in households are predictable – there is constant light, subtle fluctuations in temperature and humidity. Usually, there is a marginal risk of extreme incidents, such as spillages, but of course, it depends on the specific purpose of the device. For designers, this is an opportunity to create unique solutions and experiment with different technologies.

Do you need a customized solution for smart home applications? Contact us – we will assist you in designing the convenient module.
2022-11-23
HDR (High Dynamic Range) technology is one of the most important developments in digital visual entertainment in recent years. It allows for much higher image quality and realism in games, … HDR (High Dynamic Range) – what is it and how does it work? Read More »