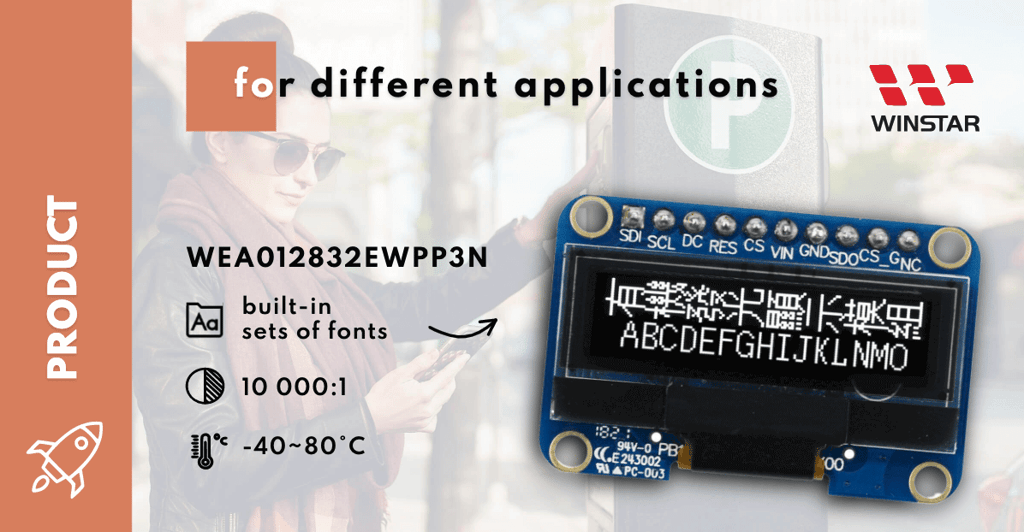 For the last time this year, we would like to present another set of advanced solutions by Winstar – compact but still very versatile OLED graphic displays. They are distinguished by several unique parameters – the described modules are resistant to extreme temperatures and offer a very high contrast ratio, typical of this technology, but that's not all…
The three models mentioned above differ from each other mainly in terms of size and LED color. The 2.08-inch WEA025664ALAP3N displays information in yellow, while the 1.5-inch WEA012832EWPP3N and 1.04-inch WEA128128AWAP3N do so in white. They also have a PCB board and mounting holes for easy use in given applications.
In the case of OLEDs, every single pixel that makes up the display matrix is its light source. Therefore, with there is no need to use an additional backlight with such solutions. As a result, the weight, dimensions, and power consumption of the individual modules are reduced to some extent. Such specifications allow the use of such displays in many different products, from wearables, through measuring and medical instruments, to public space solutions (parking meters, ticket machines, and self-checkouts).
The last of the mentioned applications can be particularly demanding. They must be particularly resistant and functional due to the environment in which they are usually placed. The challenges are interactions with hundreds of users a day and exposure to harsh weather, dust, moisture, or simply intense lighting that can make it difficult to read the information on the screen. OLED graphic displays from Winstar are adapted to work in low (up to -40°C) and high (up to 80°C) temperatures, which guarantees the proper functioning of devices even in extreme conditions. In addition, the almost infinite contrast and full viewing angles ensure the perfect readability of the presented content.
The described solutions also have built-in four sets of fonts: English, European, Japanese, and Cyrillic. Thanks to this, it is possible to use these modules in various markets. The selected characters can also be used as utility icons depending on the type of application. In the case of graphic displays, embedded fonts can also significantly speed up the development process – the user can simply select and apply an appropriate font instead of designing them and programming from scratch.
The table below presents the most important parameters of the discussed models:
| | | | |
| --- | --- | --- | --- |
| model | WEA025664ALAP3N | WEA012832EWPP3N | WEA128128AWAP3N |
| size | 2.08" | 1.5" | 1.04" |
| resolution | 256×64 | 128×32 | 128×128 |
| active area | 51.18(H) x 12.78(V) mm | 25.58(H) x 6.38(V) mm | 26.86(H) x 26.86(V) mm |
| brightness | 120 cd/m2 | 100 cd/m2 | 110 cd/m2 |
| contrast ratio | 10 000:1 | 10 000:1 | 10 000:1 |
| viewing direction | 160° / 160° | 160° / 160° | 160° / 160° |
| module type | COG – Chip on Glass | COG – Chip on Glass | COG – Chip on Glass |
| interface | SPI | SPI, I2C | SPI |
| controller | SSD1362 | SSD1306 | SSD1327ZB |
| outline dimensions | 70.0(H) x 22.0(V) x 1.76(D) mm | 35.4(H) x 23.5(V) x 1.8(D) mm | 34.2(H) x 45.5(V) x 3.16(D) mm |
| operating temperature | -40-80℃ | -40-80℃ | -40-80℃ |
| operating lifetime | 50 000 h | 20 000 h | 20 000 h |
| available content colors | yellow | white | white |
2021-12-16
We are thrilled to invite you to the heart of Poland's business realm, Warsaw, on Thursday, October 26, 2023, from 09:00 to 16:00, for the Evertiq Expo 2023 at the … Join Us at Evertiq Expo Warsaw 2023! Read More »