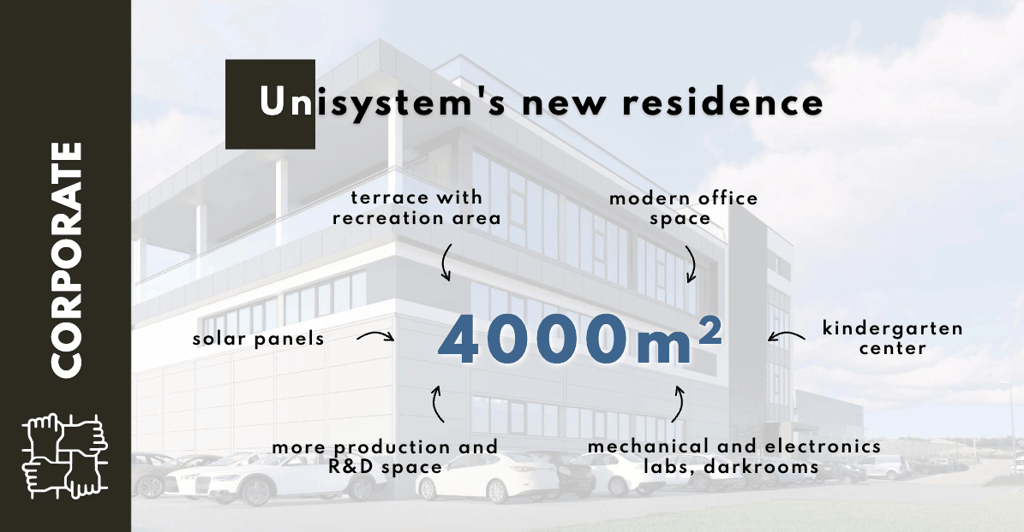 A little over a year ago, we wrote about the plans related to our investment in a new, larger headquarter. Today we can proudly announce that we have completed the construction part of the project.
Our 25th anniversary, celebrated last year, coincided with the start of our most significant investment so far: the construction of a new headquarters. – When we moved to the office building at Nowy Świat in 2015, I did not even dare to think that it would turn out to be simply too small for us five years later – recalls Sławomir Szweda, founder, and CEO of Unisystem.
For us, 2020 was a continuation of the dynamic development that began almost six years ago. Increasing the number of employees, winning the new markets, continuous expansion of competencies and new, more demanding projects. All of this made the space in which we have operated so far has not kept up with our pace.
The new headquarters will provide another 3000 square meters of modern warehouse, production, and office space. With our first, still used building, it will give a total of 4000 square meters. The warehouse space located on the ground floor will occupy nearly 1000 square meters. The first floor is production, the R&D department, and their labs – a mechanic as well as an electronics one – and a darkroom. – The new laboratories will allow us to provide comprehensive customer support and conduct a series of tests directly at our headquarters. Everything in conditions adapted to the specific expectations of customers, both in terms of mechanical, optical, and electronic requirements – says Kamil Kozłowski, Vice President of Unisystem. On the second floor, there will be office and social rooms, conference rooms, and… space for children.
In the next stage of work, we plan to put some solar panels on the roof. But much more will be happening there. We are planning to adapt part of the roof for use by employees. – We will place benches on the terrace and create a friendly space for work, rest, and recreation (like yoga sessions). Our new building was designed with the comfort of employees in mind, so we wanted to be sure that they will have a suitable workplace and a place to rest. At the design stage, all employees could submit their comments and ideas on each room in the new building. Thanks to this, several great ideas appeared – such as the mentioned earlier recreation area on the roof or the company's kindergarten – comments Kamil Kozłowski.
We will still be using our current premises. Both buildings will be connected on the ground floor. The existing warehouse space will increase the production part. At the beginning of 2020, we completed the expansion and modernization of the cleanroom. Currently, it meets the ISO 6 class standards according to the ISO 14644-1 standard. These are suitable conditions for work in the field of, i.e., connecting displays with touch sensors or applying decorative and protective glass or coatings, e.g., antireflective (AR) or anti-fingerprint (AF).
For us, 2021 is a time of expansion – the construction of a new headquarters, development of the export department, investment in new assembly lines. – The last years of Unisystem were great, but I firmly believe that the best is yet to come – says Sławomir Szweda.
2021-09-16
We are thrilled to invite you to the heart of Poland's business realm, Warsaw, on Thursday, October 26, 2023, from 09:00 to 16:00, for the Evertiq Expo 2023 at the … Join Us at Evertiq Expo Warsaw 2023! Read More »